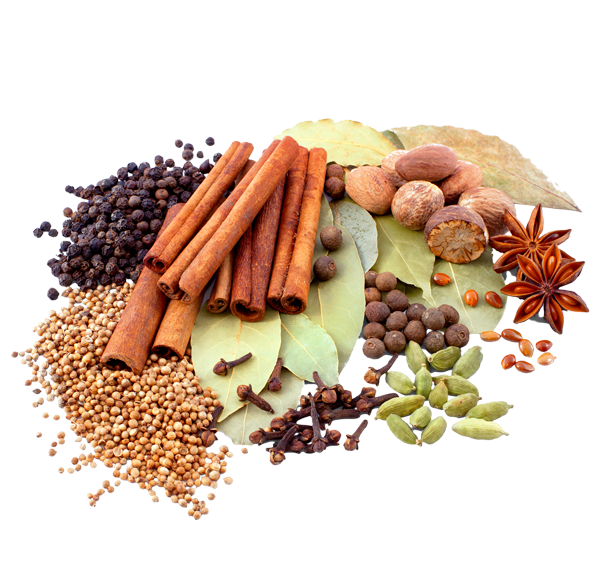 Indian food follows multiple ayurvedic teachings, by using fresh ingredients and complementing it with spices that help in nourishing the mind and body. Conscious consumption of authentic dishes prepared in India acts as fuel for our body. Generous amounts of spices used in Indian food adds flavour to our appetite and ensures a healthy lifestyle.
Take a look at some of the common spices that are used daily in Indian dishes and their benefits.
Coriander Powder or Seeds
Used as a powder or as whole seeds, it helps to cure osteoporosis, maintain the level of blood sugar, heals infections on our skin and releases abdominal pain.
Red Chilli Powder or Whole Spice
The core component of red chillies is capsaicin that gives a strong taste and health benefits. Used mainly for flavour and colour, red chillies decrease inflammation, protects the heart, aids metabolism, and boosts immunity.
Cumin is an integral part of tadkas, it is used as a powder or whole seeds. Cumin helps cure anaemia, promotes digestion, helps treat anaemia, prevent diabetes and has many other healing properties.
Along with adding beautiful golden colour to the food, haldi is filled with antioxidants and it improves digestion, lowers cholesterol, reduces inflammation, and boosts immunity. Curcumin is the key element making turmeric a very powerful spice.
Cinnamon
Mixed with both sweet dishes and savouries, cinnamon aids in improving insulin sensitivity and in maintaining blood sugar levels. Also, it shields the heart, increases brain function, and releases inflammation,
Black pepper used powdered, semi crushed, or whole aids digestion helps in weight loss, promotes nutrient absorption, and keeps the heart-healthy. Many use it as a home remedy for common cough and cold.
Cardamom
Apart from offering a pleasant taste, cardamom is beneficial for our metabolism, gastrointestinal health, and heart. Its antimicrobial attributes help us treat infections.
Conclusion
For reaping the maximum benefits of spices and enjoying their healing powers, you have to use them in their purest forms. Many spices that are available in the shops have their natural oil extracted for other purposes. In order to buy the best to get all the nutritional values of the spices, choose spices that are certified and have the natural oils retained.
Spices produced under the brand Nita Mehta, are 100% pure and do not have any chemical preservatives. At all stages of production, spices are passed through a quality check to maintain high standards. Try it yourself to taste exceptional flavours.
DISCLAIMER
The opinions and views expressed, with analysis and assumptions presented in this context are those coming from the author(s) while not particularly reflecting any official position or policy of another organization, agency, company, or employer.
The data, included relatively not limited to, text, images, graphics, and other elements contained on the website are directed to informational purpose only. The aim of this website is to promote mass consumer knowledge and understanding of various health subjects.
Note that it doesn't intend to substitute professional medical treatment, advice, or diagnosis. At all times seek the advice of a physician or other qualified healthcare professionals for any questions you may have regarding treatment or medical condition, prior to starting a new healthcare regimen.
Make sure you never disregard medical advice from a professional or detain seeking one because you read something on this website
Posted:
November 17, 2022
|